ABOUT THE CN
The CN Basic Concept & Vision:
We seek to establish a large international campus in the City of Los Angeles which will co-locate all of the consulates of the various countries who already have a presence in LA along with their trade and cultural exchange offices. This will become much like a 'west coast version' of the 'United Nations', except that the purpose here will be to de-emphasize the divisive political aspects of international relations such as those we see at the UN today, and we will focus our approach primarily on those qualities that bring world nations and peoples together to share our common humanity, and to make for a very positive and unique environment.
---
Qualities and common interests that most people
around the Earth do share...
Desire for World Peace

Individual Human Rights

Freedom of Self-determination and Sovereignty

Educational Opportunities

Mutual Prosperity and Improved Standard-of-Living

Exchange of Trade and Business Relationships

International Development

Public Benefit and Charitable Endeavors

Programs for Youth

Culture, Music and the Arts

Communications

Entertainment

And of course, cuisine
---
Why it makes perfect sense...
LA's primary transportation hubs such as LAX Airport, which is the 4th busiest in the world for passengers and cargo

The Port of Los Angeles combined with the Port of Long Beach is considered to be the 9th busiest shipping port complex in the World

Southern California's rich multi-cultural makeup

LA's trade, business, and entertainment industries
It just makes perfect sense to create a more central gathering place where we can bring the international community together to share in the richness of each other's heritage and find our common ground.

---
What exactly will it be?...
This campus will be an international showcase for all the things that the various nations, peoples and cultures may share. Along the lines much like Disney World in Florida's 'Epcot Center World Showcase', the CN will not only be for business, but it will also have a 'theme park-like' feel, and it will feature architectural characteristics that highlight the various countries represented. It will have restaurants, and entertainment and event venues that will establish the CN as a landmark California destination that will attract tourists as well as business and trade relations from all over the world.

An Existing Example to Consider...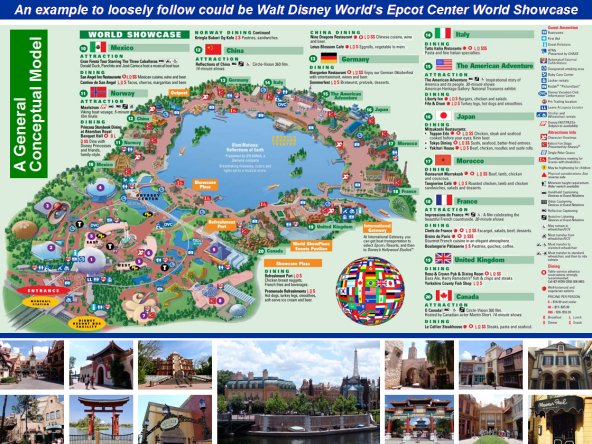 (Except having a smaller central water feature in which the rest of the system is more distributed throughout the entire complex)
---
The CN will be 'anchored' by 'American Pacific World University' (APWU). This university is now in it's formation, and will be established as a premiere international educational institution.
---
Benefits for California, the City of LA, and the Region...
Reduce traffic by consolidating disparate facilities

Central gathering place for international events

Improve the ability to provide security for consulates

Makes it much easier to conduct business (personal and commercial) with multiple countries

Increase in business, trade, travel and tourism, And Jobs!

Increase in LA and California's tax base and revenues

Help LA better prepare for the upcoming Olympics, and have something of lasting value long after the games are over

Really go a long way toward making LA even more of a world-class city!

New York and the East Coast have their own 'United Nations',
why shouldn't we here in Los Angeles and the West Coast
have our own 'Community (of) Nations'?!...